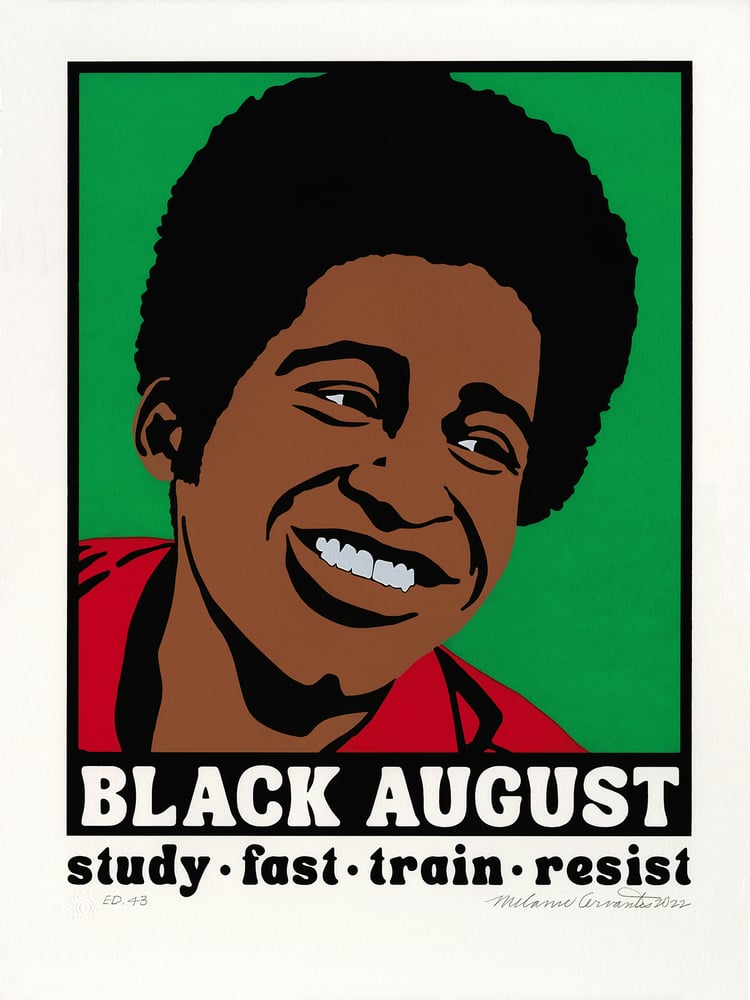 Black August (2022)
$

75.00
Institutional pricing(libraries, universities, for use on tv/movies etc) . Contact us for invoicing or a custom listing: $150
Melanie Cervantes
18"x 24"
5 - Color, Hand pulled screenprint, Strathmore Vision cold-pressed watercolor paper,140lb, acid-free, Printed in our kitchen by Melanie Cervantes, San Leandro, August 2022
Edition of 43 with Dignidad Rebelde's studio symbol as a dry embossed seal in left hand corner
"Settle your quarrels, come together, understand the reality of our situation, understand that fascism is already here, that people are already dying who could be saved, that generations more will live poor butchered half-lives if you fail to act. Do what must be done, discover your humanity and your love in revolution."- George Jackson
Given that Black August is upon us I decided to run an edition of these prints,which feature a portrait of black revolutionary George Jackson. This is a time to commemorate the history of Black freedom fighting, political prisoners and Black resistance to oppression. As Sundiata Tate describes Black August is a time to "embrace the principles of unity, self-sacrifice, political education, physical training and resistance."
For further study:
1. Listen to:
Mumia Abu-Jamal's Black August from "Mumia Abu-Jamal Spoken Word With Music By Man Is The Bastard"
2. Watch:Freedom is a Constant Struggle TV Show, August 21, 2009 hosted by Kiilu Nyasha with guest Willie Sundiata Tate (Sundi) "one of the six defendants put on trial for the assaults and murder of guards on that fateful day when George Jackson was assassinated at San Quentin Prison. They became known as The San Quentin Six. Sundi was acquitted of all charges and has been out of prison for over 35 years, continuing to advocate for the release of political prisoners and equal justice."
3. Read:
Critical Resistance-"Celebrate Black August"
http://criticalresistance.org/resources/current-analysis/celebrate-black-august/
4. Read:
"Black August Celebrates the History of Black Resistance in the U.S." by maya finch of the Center for Constitutional Rights in Teen Vogue
https://www.teenvogue.com/story/what-is-black-august
Updated resource:
5. "George Jackson was assassinated in San Quentin prison on August 21, 1971. The following week, the prison released an inventory of the 99 books in his cell.
To mark the 50th anniversary of his death, [Freedom Archives] felt inspired to elevate the breadth of his intellectual curiosity and the way in which he understood and engaged the world."
__
International Packages outside of the U.S.: Tracking Included, Insurance optional, contact us for details about cost.
If you would like to include a personalized card please include the message you would like included (30 words or less) in the "Notes or Instructions" section at checkout.
Recommended Products