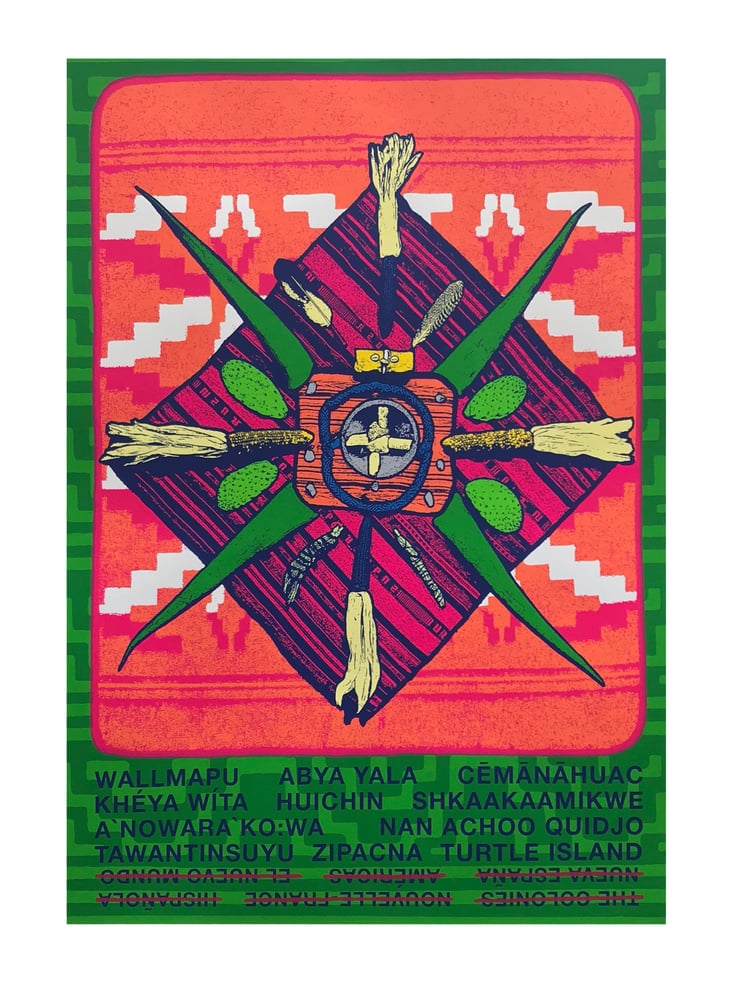 Bringing Back Ourselves: A recovery of the stolen (2019)
$

350.00
Institutional pricing (libraries, universities, for use on tv/movies etc) . Please contact us for invoicing or a custom listing:$700
Jesus Barraza and Melanie Cervantes
22" x 30"
14-layer print, 250gsm, Rives BFK 100% Cotton Rag paper, Printed in Oakland, CA, 2019
Edition of 35, Artist Proofs Available
"Sixty million Native Americans died between 1500 and 1600. The defiance and resistance to things European continue unabated. The Indian Wars have never ended in the Americas. Native Americans acknowledge no borders; they seek nothing less than the return of all tribal lands."- Leslie Marmon Silko (Laguna Pueblo/Mexican/European), Almanac of the Dead
This year marks the 500 year anniversary of the arrival of Hernán Cortés and his army of thugs and thieves to the land known today as Mexico. This incursion forever changed the lives and the trajectory of the Indigenous peoples who lived in "Mexico," since the beginning of time, as well many other peoples living throughout the continent. Some have historicized this moment as a meeting of cultures, of people coming together to create a new world but this so called "encounter" meant that the Indigenous peoples were inflicted by the violence of this invasion and thus had to bear witness to a reign of terror and genocide as religious zealots attempted to obliterate all spiritual life and practices.
The disruption caused by Spanish occupation of once sovereign lands severely impacted the everyday lives, rituals and history of the people. Colonizers sought to impose a new worldview on the native population through the imposition of religion, a new economic system and Western medicinal practices. That which was held as sacred had to be sublimated or hidden and for over five centuries despite the ferocious brutality imposed by occupying forces indigenous peoples survived and kept alive a way of being that grounded them to the natural world. A strong relationship to their relatives: the land, the plants, the fish and the animals as well to cycles of nature. These knowledges for hundreds of years have been wrapped into bundles and altars, stitched and woven into clothing, blankets and baskets, integrated into sacred choreography intermingling dance and prayer and histories kept alive in the stories told to us by the old ones.
Here we share an altar and our prayer that we may recover what was lost as a consequence of centuries of colonial and imperial greed. Through this process we look back to remember the name(s) of the land before the imposition of colonial rule and imagine a tomorrow rooted in our old ways of being that allow us to thrive.
Recommended Products