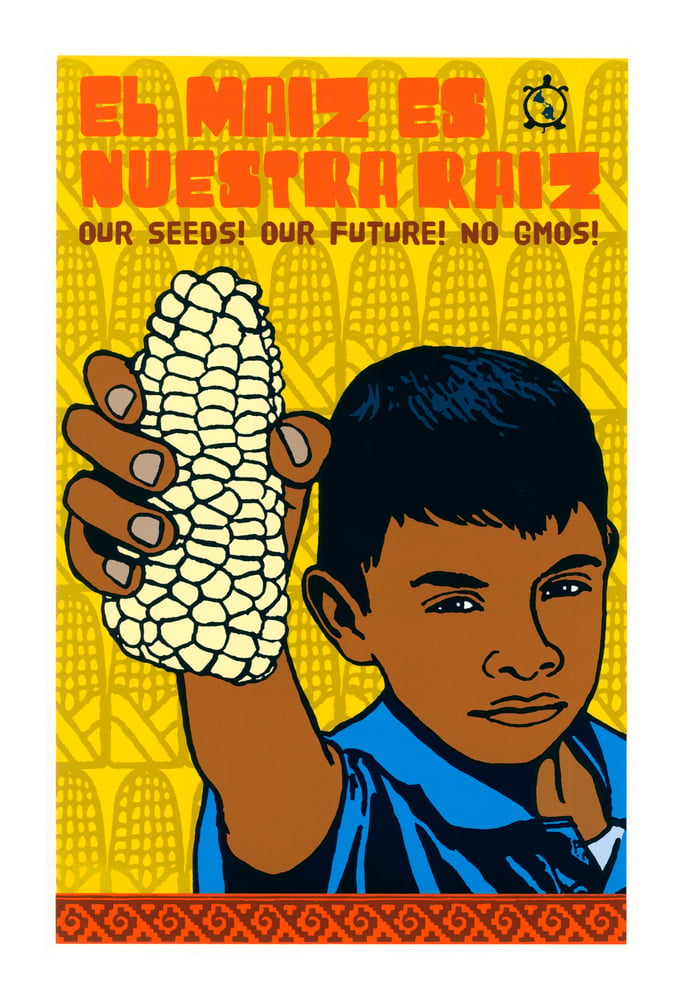 Corn People (Screenprint 2014)
$

130.00
Institutional pricing (libraries, universities, for use on tv/movies etc). Contact us for invoicing or a custom listing: $260
Melanie Cervantes
15 x 22 inches
7-Color, Hand pulled, Screenprint, Cougar Double Thick 160# Paper, Printed in San Leandro CA 2014
There a limited number of Artist Proofs (APs) available. The APs are what I am currently selling.
This print is called Corn People and is a reflection on the spiritual, cultural and material devastation that Genetically Modified "foods" like corn have on many populations through the Americas and the world. It presents a young boy holding on to our future and biodiversity as refelected in the corn in his hand.
This print was created for a porfolio called called Un-settling Alliances. It is a themed portfolio that was organized to debut at the Southern Graphics Council's 42nd Annual Conference: Bridges: Spanning Tradition, Innovation and Activism.
This portfolio brings together eleven artists of varied generations, backgrounds, and relationships to anti-colonialism to focus on connections and alliances across struggles for self-determination, decolonization, and collective liberation. Drawing from the work of printmakers who engage in social, political and cultural themes, this project hopes to visualize and build cross-movement relationships. The project debuted at the 2014 SGCI conference in San Francisco in March.
Recommended Products