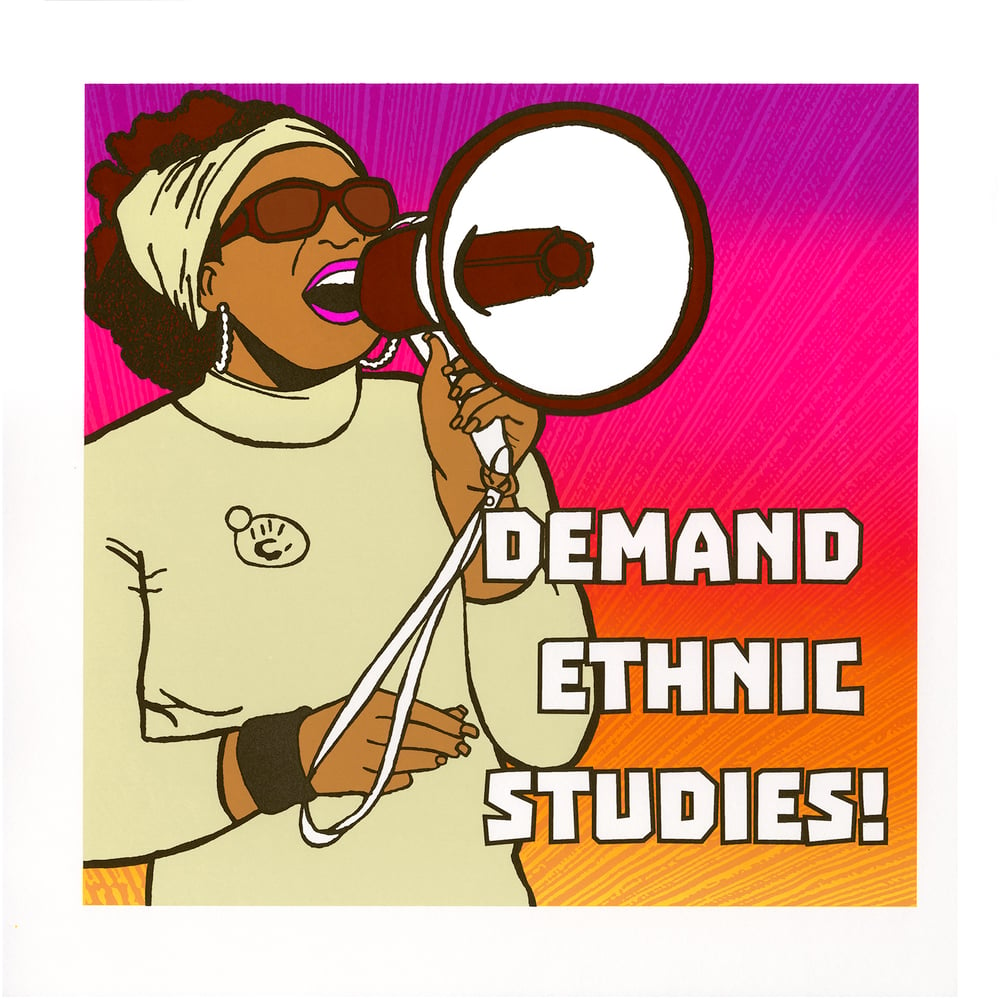 Demand Ethnic Studies (2019)
$

65.00
Institutional pricing (libraries, universities, for use on tv/movies etc) . Please contact us for invoicing or a custom listing: $130
Melanie Cervantes
18" x 18"
7 color/layer screen print including a blend in the background, 140#/300 gsm Canson watercolor paper, Printed in my kitchen in San Leandro, 2019
Edition of 50
People are often surprised to hear that I did not major in art in college and I am not formally trained in the arts. I did take an introductory screenprinting class at Laney Community College after I graduated from UC Berkeley. I transferred to Berkeley from community college. It was in community college that I took my first Chicanx Studies classes. These classes changed my life...they helped me understand histories I had never been taught school before and these histories provided a context to understand my families experiences with oppressive laws and policies . When I transferred to Berkeley I knew I wanted to learn more and I decided major in Ethnic Studies. My training in Ethnic Studies provides me a lens to look at the world, at the problems we face and the root causes that created them.
The fight to win Ethnic Studies, curriculum, classes, courses. departments and colleges is a protracted struggle that many generations of people have engaged in. In California legislators poised to make ethnic studies a graduation requirement in high schools and at the Cal State universities.
There have been struggles in places like Tucson, Arizona state lawmakers banned the powerful and impact Raza Studies/Mexican American Studies classes being taught in the high schools.
"Mexican American Studies was founded with the aim of reversing some disturbing academic trends for Chicano students in Tucson. It worked. In 2011, the high school dropout rate for MAS students in Tucson was 2.5 percent, as opposed to 56 percent for Latino students nationally. A study by Tucson United School District (TUSD) found that 98  percent of MAS students reported they did homework, and 66 percent went on to college. The program was widely regarded as helping Latino youth feel empowered and achieve their full academic and human potential." (See Yes! Magazine: https://www.yesmagazine.org/issues/education-uprising/interview-with-curtis-acosta)
The power of Ethnic Studies threatens White Supremacy and other systems of oppression and that is why the struggle is protracted. We have to defend it where it has been won, demand that institutions that do have Ethnic Studies be accountable to keep the curricula relevant and keep pushing ourselves to ensure that the knowledge gained is applied to change the course of our communities lives.
Recommended Products