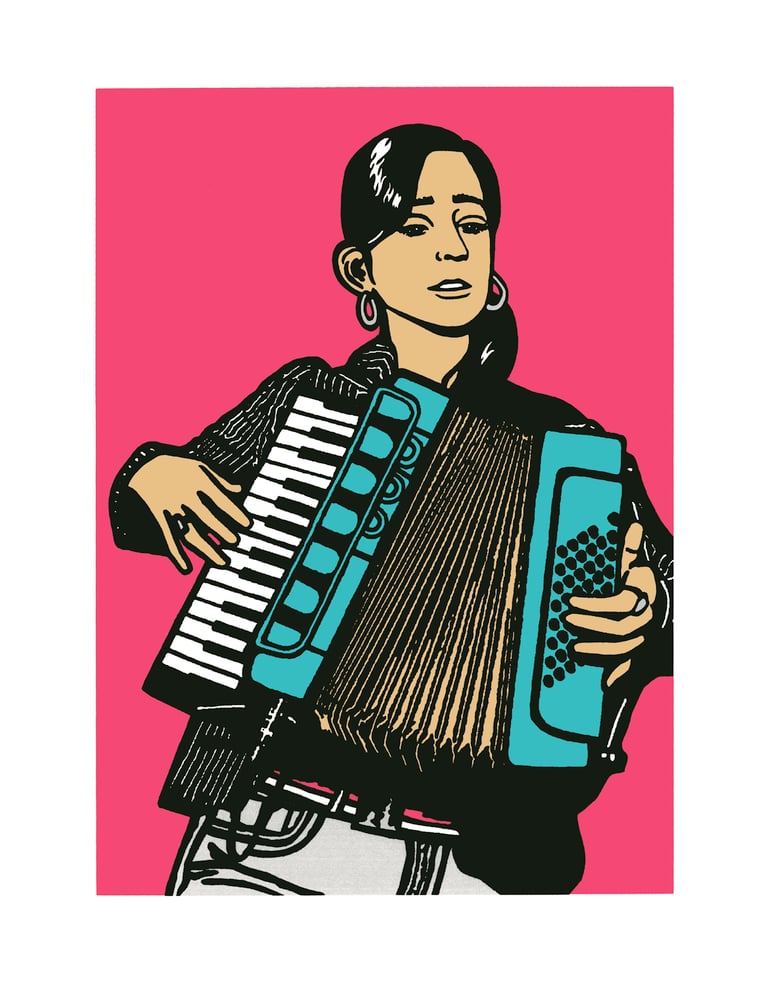 El Acordeon del Corazon (2011)
$

125.00
Institutional pricing (libraries, universities, for use on tv/movies etc). Contact us for invoicing or a custom listing : $250
Melanie Cervantes
20 x 26 inches
6-color, Handmade Screen Print
Signed and numbered edition of: 70
Coventry Rag Archival Paper
Printed in Oakland, 2011
Julieta's voice first made it into my ears when she was a vocalist for Tijuana No!, a Mexican political punk-ska-rock band. Later in 1998 my sister enlisted the help of relatives in Mexico to get a copy of her first CD Aqui which hadn't yet been distributed in the U.S. I loved her rock sound and would steal away with the CD, listening to her songs on repeat during my four mile walks to and from community college.
I continued to love her sound as it transformed from rock to pop because I could always listen to her previous albums and still enjoy the new music. The best memory I have of seeing Julieta play live was at an opening of the exhibit Lines of Sight: Views of the U.S./ Mexican Border at UC Riverside. Her twin sister Yvonne, who is a photographer, had work in the exhibit along with other phenomenal artists like Ricardo Duffy and Ruben Ortiz Torres. The event combined On a couple of songs her cousin played flute while she changed between acoustic guitar and accordion while her sister and mother sang along softly with her songs. It was fantastic.
The first time I saw Julieta play the accordion I was electrified. I had seen norteño-bands like Los Tigres Del Norte play before but this was the first time I witnessed a woman master the squeezebox and make it look like the coolest instrument in the world.
This piece joins the series of portraits of women musicians whose music moves me. The other prints feature Martha Gonzalez of Quetzal and Lila Downs.
Recommended Products