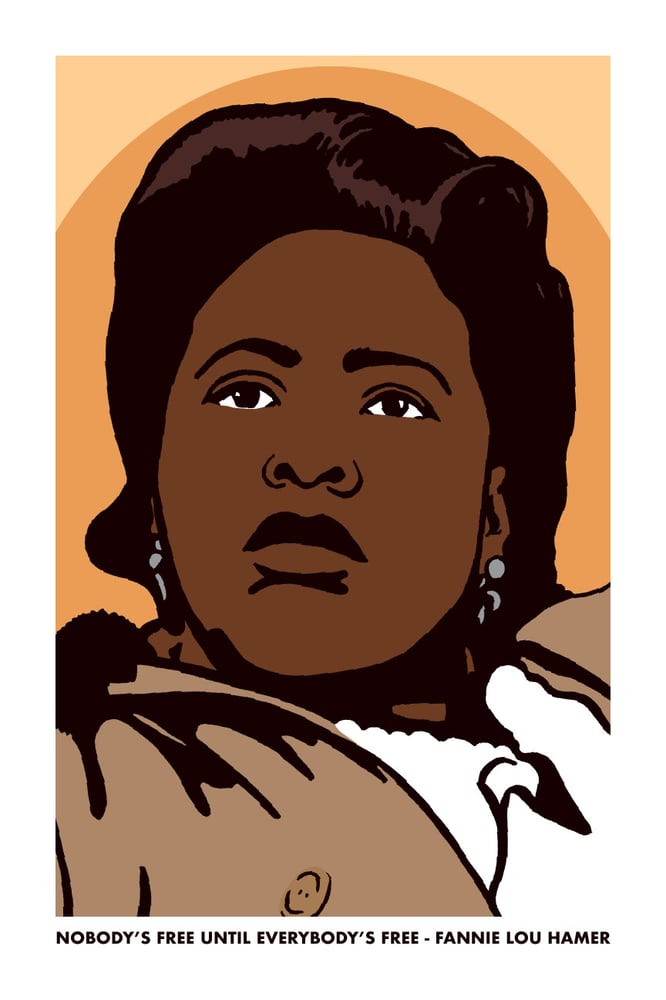 Fannie Lou Hamer (2018)
$

18.50
Institutional pricing (libraries, universities, for use on tv/movies etc) . Please contact us for invoicing or a custom listing :6"x 9": $37 & 13" x 19" :$120
Melanie Cervantes
6"x 9" & 13" x 19"
Full color giclée print with white border, 100% cotton rag, 260gsm Archival Velvet Fine Art Paper, 2018, Open Edition
"Now, we've got to have some changes in this country, and not only changes for the black man, and only changes for the black woman, but the changes we have to have in this country are going to be for liberation of all people--because nobody's free until everybody's free."- Fannie Lou Hamer, Speech Delivered at the Founding of the National Women's Political Caucus, Washington, D.C., July 10, 1971.
Fannie Lou Hamer was born in Montgomery County, Mississippi in 1917, the youngest of her parents 20 children. Her parents were sharecroppers and Fannie worked as a timekeeper and sharecropper for the plantation owner. The Student Nonviolent Coordinating Committee (SNCC) held an informational meeting at her local church, where she learned for the first time that she had the right to vote. Fannie joined and would eventually become a field secretary for SNCC in Ruleville and began organizing a poverty program. She was an energizing force in the civil rights movement.
In 1964, Hamer helped organize the Mississippi Freedom Democratic Party (MFDP), an alternative to the state's white-controlled Democratic Party. She also founded Freedom Farm, a food cooperative that served the Mississippi Delta area and provided healthy food for families, jobs for Black women and helped families with down payments for their houses. Five thousand people grew their own food on this farm!
Fannie Lou died in March, 1977 from untreated breast cancer when she was only 59.
Recommended Products