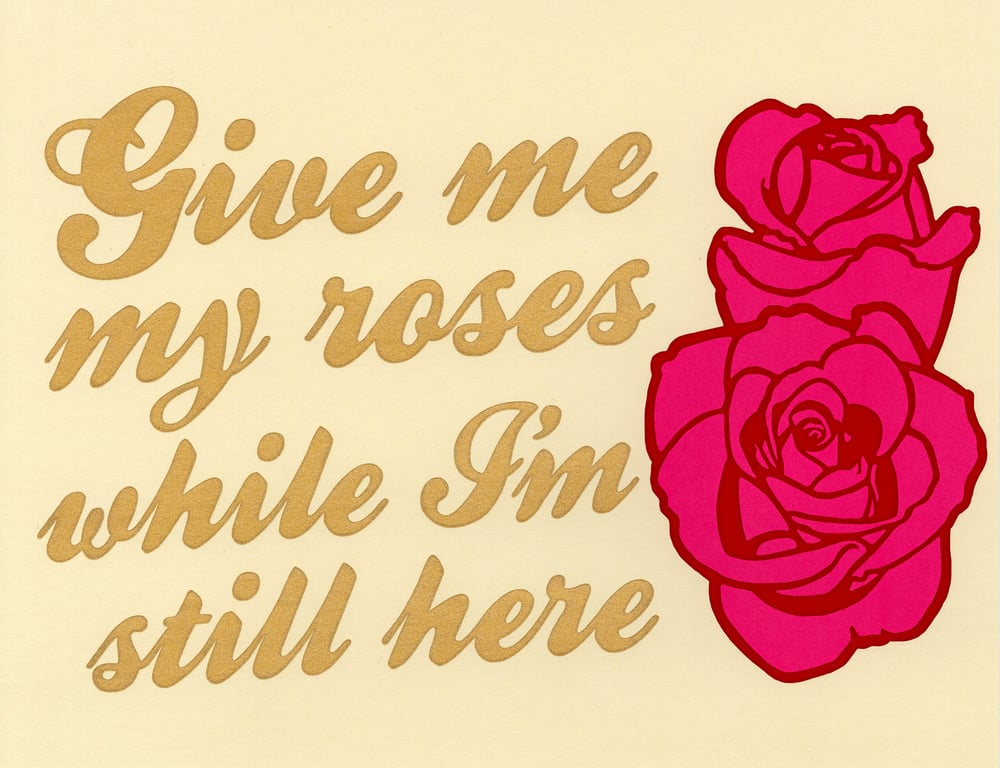 Give me my roses (2020)
$

25.00
Institutional pricing (libraries, universities, for use on tv/movies etc) . Please contact us for invoicing : $50
Melanie Cervantes
11" x 8.5"
3-Color (Including Metallic Gold) Handmade Screen Print, Recollections Archival Cardstock, 300gsm, Printed in my kitchen, San Leandro, CA 2020, Open Edition
Give me my roses while I am still here.
I have heard this sentiment so many times usually uttered by women who were older than me when addressing their family and feeling unappreciated. And, as of late I have seen people use it in their social media posts. Particularly from the people in my world that work as organizers, educators and parents. The sentiment lands squarely in the center of my heart. In my opinion dominant culture has eviscerated the life blood from many of our practices of expressing gratitude and it's a detriment to our collective health.
One of my favorite group exercises is one where a group of people that know and work with each other write down anonymous notes of gratitude to the people in the circle. Then one by one each person takes a turn to close their eyes and receive these notes. They can't see who wrote them but they do get to read them later. Anytime I have done this exercise I am always left wondering why people don't express these feelings more often and more directly. I don't have the answers just the desire for change in practices of gratitude.
When preparing to create this print I found that The Carter Family, a White traditional folk music group that recorded between 1927 and 1956, wrote a song called "Give Me My Roses While I Live" in 1932. Some of the lyrics below really punctuate the phrase's meaning:

[Chorus]
Give me the roses while I live
Trying to cheer me on
Useless are flowers that you give
After the soul has gone
[Verse 2]
Let us not wait to do good deeds
Till they have passed away
Now is the time to sow good seeds
While here on earth we stay
[Chorus]
[Verse 3]
Kind words are useless when folks lie
Cold in a narrow bed
Don't wait till death to speak kind words
Now should the words be said
Recommended Products