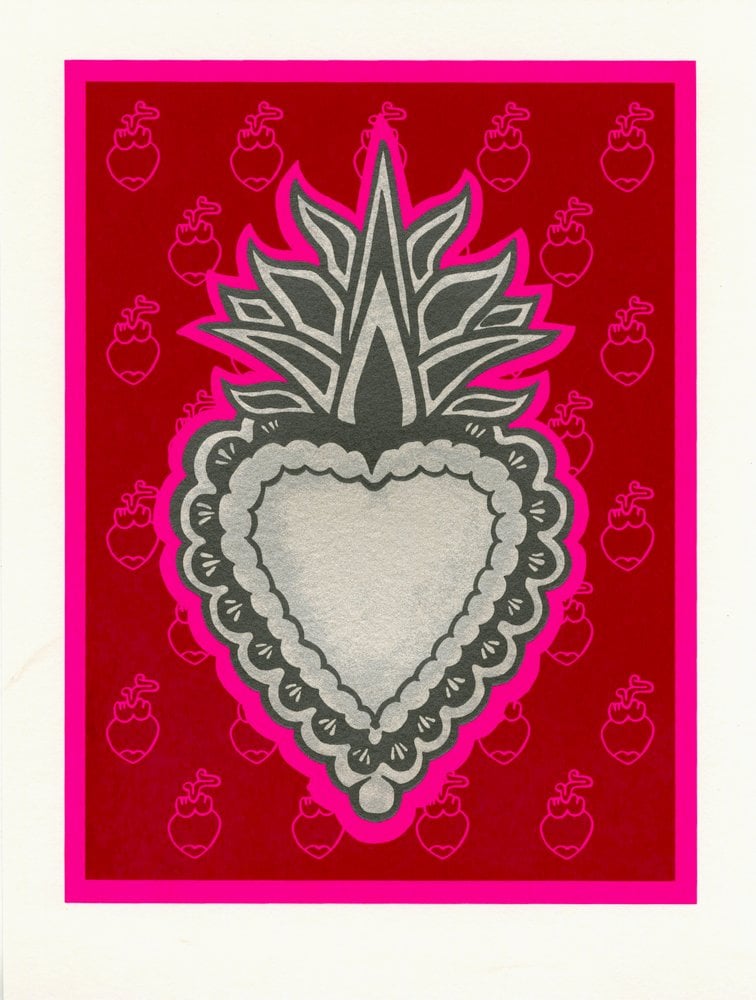 Milagro (2018)
$

50.00
Institutional pricing (libraries, universities, for use on tv/movies etc) . Please contact us for invoicing or a custom listing:$100
Melanie Cervantes
9 x 12 inches, 5-color, hand pulled screen print( includes two silvers and one graphite/dark metallic ink) , 140#/300 gsm Canson watercolor paper, Printed in my kitchen in San Leandro, 2018
I found 7 of these hidden in a box between other prints. I thought they were all gone.
My heart pushed me into the doctor's office for the visit that led to an early NET lung cancer diagnosis. An irregular heartbeat kept me from sleeping comfortably and it turned my doctor's attention my chest. The x-ray showed a tumor in the upper lobe of my right lung.
Milagros, the small charms used for healing purposes, ofrendas and prayer have always fascinated me. Tiny arms, eyes, hearts and animals offered as symbolic images of what needs healing.
This print is called "Milagro" and in the background is a cascading rain of Mexica heart symbols. This heart that I embroidered on the chest of my wedding dress which I made out tela de manta. "Milagro" is my prayer for an open heart that is willing to accept the caring, love and healing that I need to be well and find balance in my body.
Recommended Products