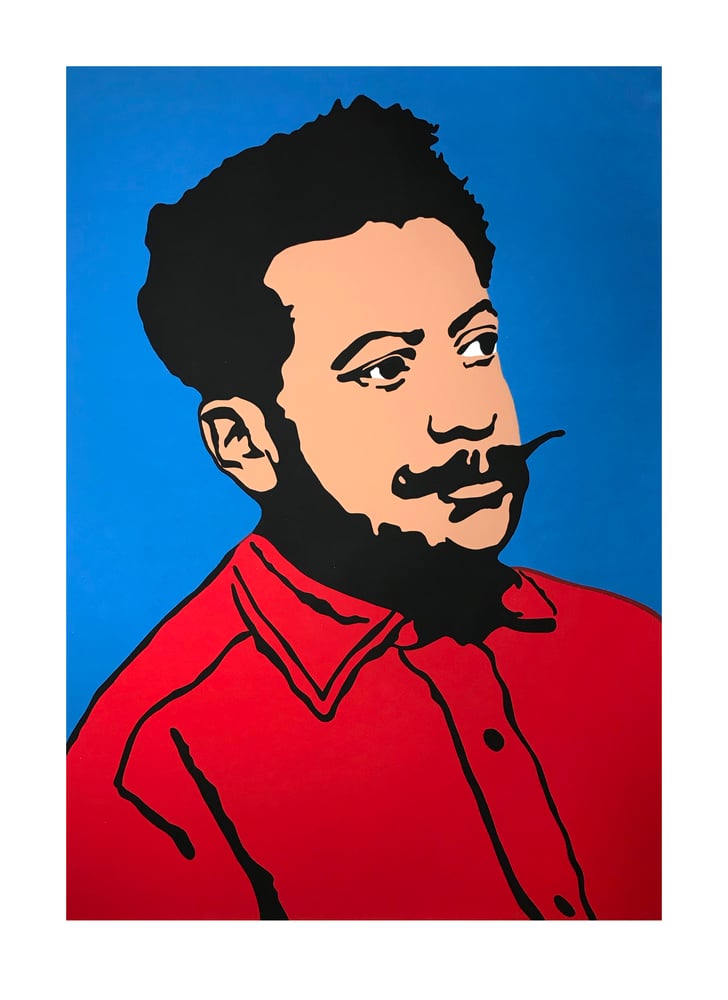 Ricardo Flores Magón (2002/2019)
$

100.00
Institutional pricing (libraries, universities, for use on tv/movies etc). Contact us for invoicing or a custom listing : $200
Jesus Barraza
22" x 30"
4-Color*, Handprinted, Screenprint, Lenox 100 paper, Archival, Printed at Taller Arte de Nuevo Amanecer, Woodland, CA 2019
Second Edition, Edition of 90.

In early 2001 I started working at the Mission Cultural Center for Latino Arts, i was responsible for making flyers, brochures and posters. It was the best job ever, most important it helped me discover the art of screen printing. I started designing posters for the Center's exhibits and once I was comfortable with the medium, I started printing my first pieces. I really liked the idea of making portraits of important historical figures, people who I did not think were widely recognized and whose history was not known by many in my Generation. 
Making this image of Ricardo Flores Magón was a way for me to pay tribute for all that he did for the Mexican Revolution and all the knowledge he left behind. I first learned of him in my Spanish class in high school, Mr. Navarrez was from the [email protected] Movement and his politics always came through in his class lessons. In a video we watched in class I learned how Ricardo and his brother Enrique published a news paper called Regeneración and they supported the Revolution not as a soldiers, but as thinker and this is exactly why he was such a threat. I later learned that he was a member of the Wobblies and worked not only in Mexico but the US as well. He was captured by the US who labeled him and the people he was with as Bandits. He died under suspicious circumstances, some say he died of natural causes, other say he was murdered by the prison guards. He left a huge legacy in his writings, I was really honored to have this image used by AK Press for the cover of "Dreams of Freedom: A Ricardo Flores Reader", the first English translations of his work. This is the second edition of this image, the first was so small, maybe 20 prints made. At the time I didn't have a lot of money to buy large amounts of paper, most of the early editions I made were about 15-30 prints. This edition was printed at Taller Arte de Nuevo Amanecer in Woodland (TANA), California as part of a collaborative project with studio.
Recommended Products