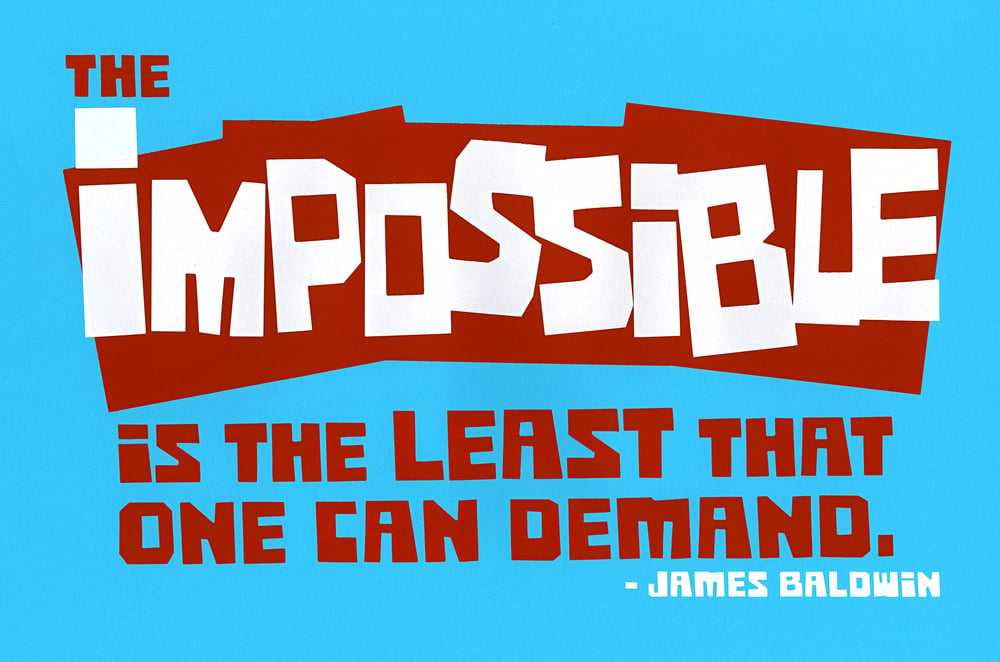 The Impossible/ Baldwin (2022)
$

25.00
Melanie Cervantes
18" x 12"
Blue paper: 2-Color Handmade Screen Print, 100lb/270gsm acid-free Astrobright paper, Printed in my kitchen, San Leandro, CA July 2022, Open Edition
This print takes a small section from a larger quote from James Baldwin's "The Fire Next Time" :
"I know what I'm asking is impossible. But in our time, as in every time, the impossible is the least that one can demand-and one is, after all, emboldened by the spectacle of human history in general, and the American Negro history in particular, for it testifies to nothing less than the perpetual achievement of the impossible."
These prints were inspired by the work of Sister Corita Kent as well as the massive mobilizations of people in cities all across the US protesting Ban #1 at airports. I saw an exhibit of her work in Portland and loved the electric color palette and the heavy use of text. Alot of Kent's work is about her Catholicism and some of her work about political struggles of the time. She was heavily influenced by Pop Art.
__
International Packages outside of the U.S.: Tracking Included, Insurance optional, contact us for details about cost.
If you would like to include a personalized card please include the message you would like included (30 words or less) in the "Notes or Instructions" section at checkout.
Recommended Products