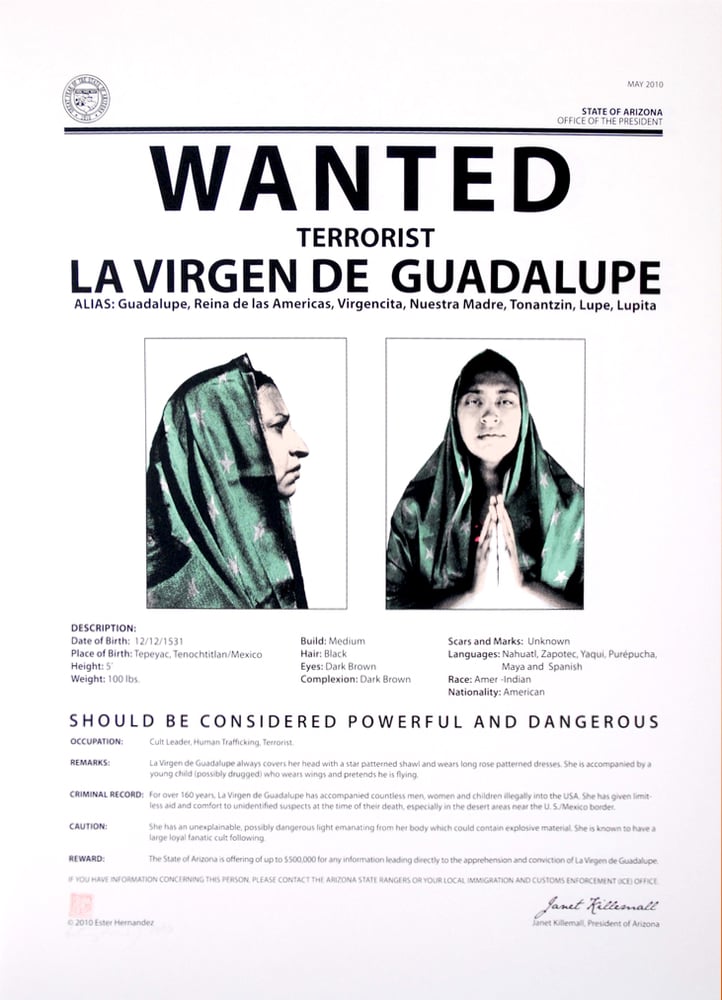 Wanted (2010)
$

500.00
Ester Hernandez
22 x 30 4-Color, Handprinted, Screenprint Print, Lenox, Printed in Oakland, CA 2010
in the summer of 2010 Dignidad Rebelde had the opportunity to work with Ester Hernandez to print her Virgen de Guadalupe Wanted print, she was inspired by the artwork that was created to support the fight against Arizona's SB 1070.
The prints available are all artist proofs signed and numbered by the artist.
The text on the print reads:
Wanted
Terrorist
La Virgen de Guadalupe
Alias: Guadalupe, Reina de las Americas, Virgencita, Nuestra Madre, Tonantzin, Lupe, Lupita.
Description:
Date of Birth: 12/12/1531
Place of Birth: Tepeyac, Tenochtitlan/Mexico
Height: 5'/ Weight 100lbs.
Build: Medium
Hair: Black
Eyes: Dark Brown
Complexion: Dark Brown
Scars and Marks: Unknown
Languages: Nahuatl, Zapotec, Yaqui, Purepucha, Maya and Spanish
Race: Amer-Indian
Nationality: American.
Should be considered powerful and dangerous.
Occupation: Cult Leader, Human Trafficking, Terrorist.
Remarks: La Virgen de Guadalupe always covers her head with a star patterned shawl and wears long rose patterned dresses. She is accompanied by a young child (possibly drugged) who wears wings and pretends he is flying.
Criminal Record: For over 160 years, La Virgen de Guadalupe has accompanied countless men, women and children illegally inot the USA. She has given limitless aid and comfort to unidentifed suspects at the time of their death, especially in the desert areas near the U.S./Mexico border.
Caution: She has an unexplainable, possibly dangerous light emanating from her body which could contain explosive material. She is known to have a large loyal fanatic cult following.
Reward: The State of Arizona is offering of up to $500,000 for any information leading directly to the apprehension and conviction of La Virgen de Guadalupe.
If you have information concerning this person. please contact the Arizona State Rangers or your local immigration and customs enforcement (ICE) office.
Janet Killemall,
President of Arizona.
International Packages outside of the U.S.: Tracking Included, Insurance optional, contact us for details about cost.
Recommended Products