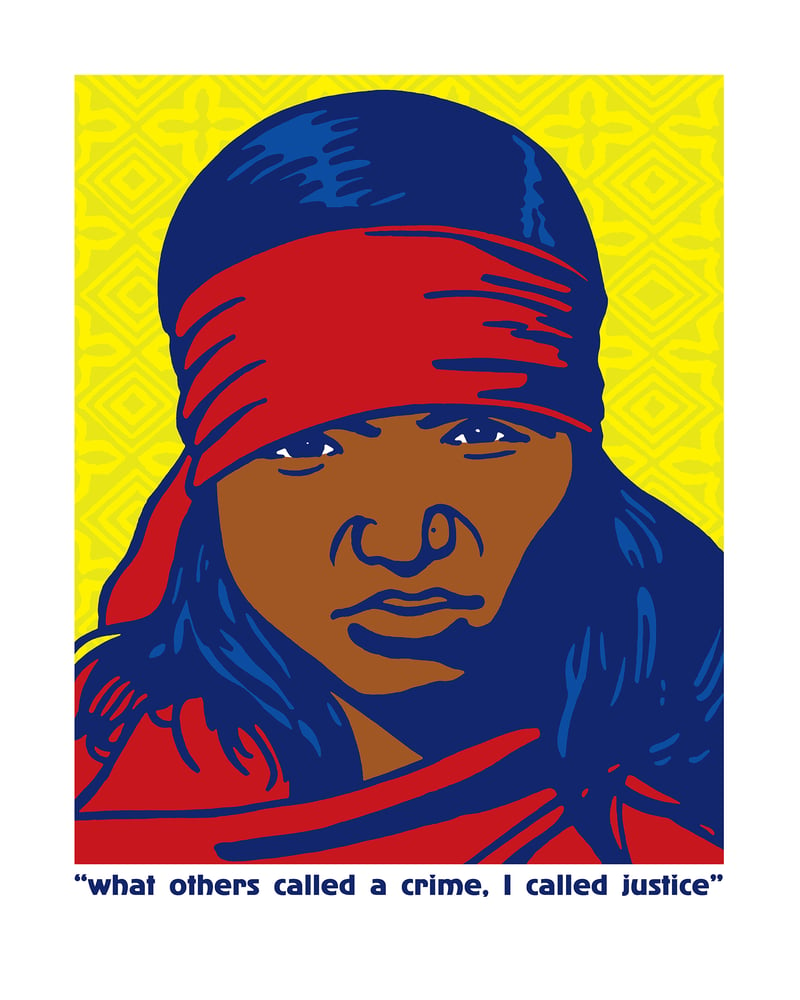 what others called a crime, I called justice (Phoolan Devi, 2018)
$

90.00
Institutional pricing (libraries, universities, for use on tv/movies etc) . Please contact us for invoicing or a custom listing:$160
Melanie Cervantes
16" x 20"
Giclée, Ultra Premium Presentation Paper Matte, 10.3 mil think, archival paper
2018
If a mother wanted to protect her daughter, she knew all she had to do was say to the rapist that Phoolan Devi would punish them. And I did. I dealt out justice. 'Who stole from you? Who beat you? Who raped your daughter?' It was my vengeance, and the vengeance of all women." — Phoolan Devi
▫️
Phoolan Devi was born into a lower-caste family of mallahs in a small village called Ghura Ka Purwa in Jalaun District, Uttar Pradesh in Northern India in 1963. She transformed herself from a violated teenager who had been held prisoner and gang-raped by upper-caste men into a tough outlaw to avenge caste outrage. Phoolan Devi was infamously known as a vengeful "Bandit Queen" but so much of her story had been mediated by others who told her story for her. In 1983 she negotiated her surrender to the government of India. ▫️
When interviewed for Thenmozhi Soundararajan's thesis project, a film on caste and violence against women Phoolan Devi advised Thenmozhi "it was vital [you keep] growing as a storyteller because it was only in our stories that we could be free." Phoolan Devi was elected to Parliament in 1996, about two years after her release. She was assassinated in 2001.
International Packages outside of the U.S.: Tracking Included, Insurance optional, contact us for details about cost.
Recommended Products