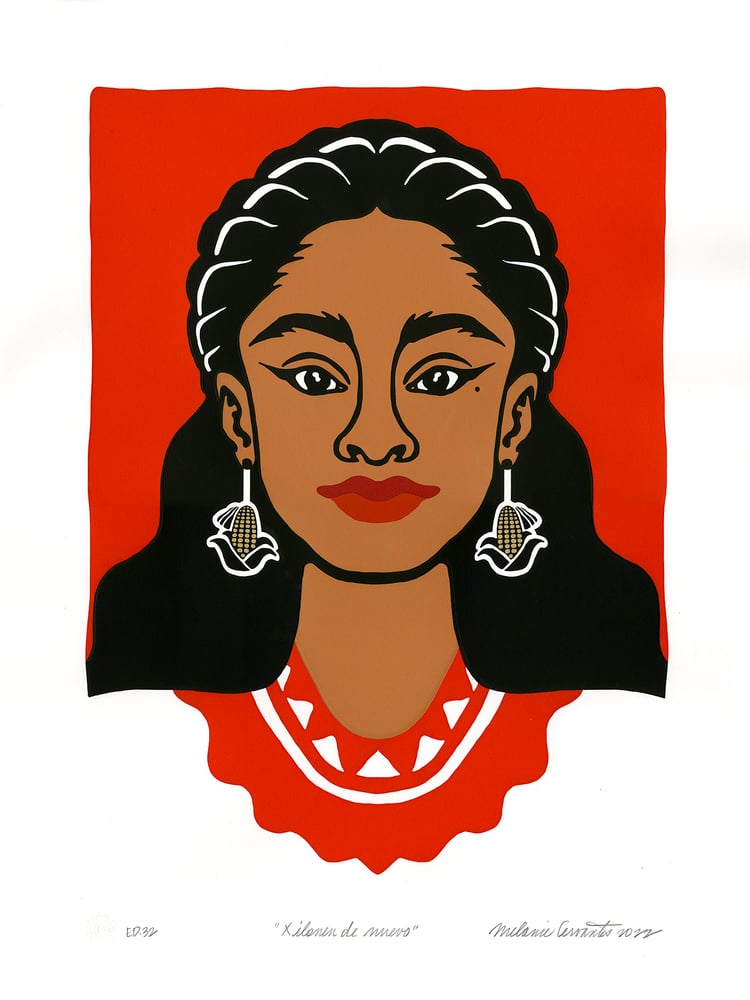 Xilonen de nuevo (2022)
$

100.00
Institutional pricing (libraries, universities, for use on tv/movies etc) . Please contact us for invoicing or a custom listing:: $200
Melanie Cervantes
18"x 24"
5 - Color, Hand pulled screenprint, Canson XL cold-pressed watercolor paper, 140lb, acid-free, Printed in our kitchen by Melanie Cervantes, San Leandro, November 2022
Edition of 32 with Dignidad Rebelde's studio symbol as a dry embossed seal in left hand corner
This year as I was able to readjust to living in our home after nearly a year of being displaced due to a fire I have revisited several of my past prints. Here I enlarge the portrait of the young person from my "Xilonen" (2019) print and zoom in on their face. I use a warm palette instead of the cool tones in the original.
The Xilonen ceremony is a rite of passage and coming of age celebration which honors young indigenous women and predates Spanish colonial invasion. Xilonen represents the young goddess of maize or tender corn. The ceremony is a widely significant ritual as it is celebrated in various countries throughout through out the Americas. I have attended a part of the beautiful ceremony in San Francisco. Young women who are invited to participate prepare with their families for months and months prior to the multi-day ceremony.
"The Xilonen ceremonies bring the entire community together to acknowledge this important time in the lives of young women. Across time, Xilonen has remained a traditional act of empowerment for young women. It provides a strong reminder to young women that they are part of a strong cultural tradition, that they can make meaningful contributions to their community, and that their leadership, wisdom, and advice can help young women who will follow them."(from Instituto de la Raza)
__
International Packages outside of the U.S.: Tracking Included, Insurance optional, contact us for details about cost.
If you would like to include a personalized card please include the message you would like included (30 words or less) in the "Notes or Instructions" section at checkout.
Recommended Products