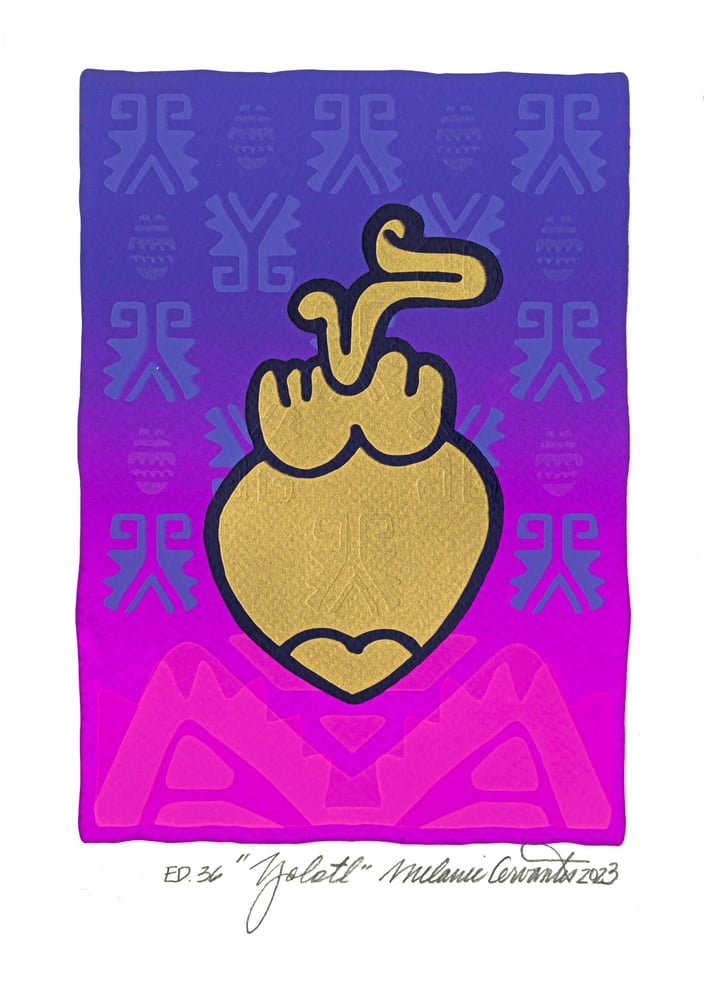 Yolotl (2023)
$

60.00
Institutional pricing (libraries, universities, for use on tv/movies etc) . Please contact us for invoicing or a custom listing:: $120
Melanie Cervantes
7" x 10", 7 layer handmade screen-print
90lb/ 190gsm Artist Loft Watercolor Paper (Made in Italy)
Printed in San Leandro, CA (January) 2023
Edition of 36 with Dignidad Rebelde's studio symbol as a dry embossed seal in left hand corner

My work is replete with symbols. I create textures by creating patterns made up of these symbols. The repetition and re-visiting acts as meditation which help me focus my attention on a the ideas contained in these symbols.
The central symbol in this print is a Mexica (named "Aztecas" by colonizers) heart or yolotl (Nahuatl). As a cultural worker, I am drawn to the historical, cultural and spiritual significance of heart symbols. I engage with them in order to consider how self-understanding is shaped by the world view of our people.
I explore the heart's meaning beyond its biological function an organ: an organ that with each heartbeat, sends blood throughout our bodies, carrying oxygen to every cell, through the repeated engagement with various representations of the heart. From abstracted icon to photo real representations I will continue the exploration of the human heart, its complexities and its connection to the world around us.
--
International Packages: Please contact us for a quote on the exact price of shipping to your address. Outside of the U.S shipping.: Tracking Included, Insurance optional.
PERSONALIZED CARD: If you would like to include a personalized card please include the message you would like included (30 words or less) in the "Notes or Instructions" section at checkout.
Recommended Products