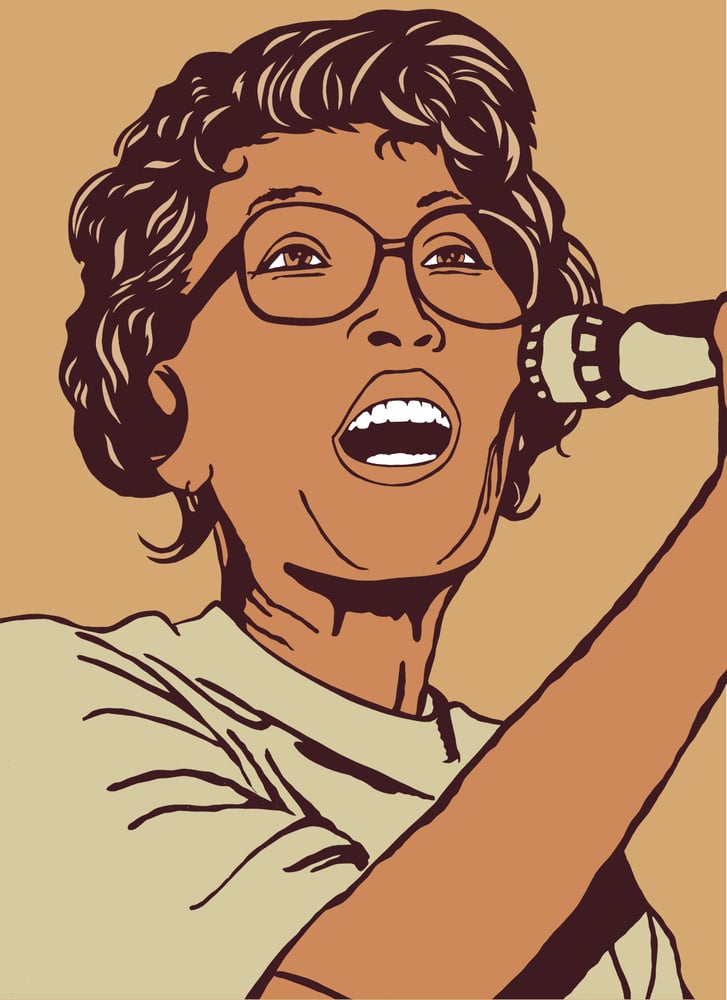 Yuri Kochiyama (Elder, 2013)
$

18.50
Institutional pricing (libraries, universities, for use on tv/movies etc) . Please contact us for invoicing or a custom listing :6"x 9": $37 & 13" x 19" :$120
Melanie Cervantes
Full color giclée print with white border, 100% cotton rag, 260gsm Archival Velvet Fine Art Paper, 2018, Open Edition (Original Screen Printed Edition published 2013)
The revolutionary Yuri Kochiyama passed away. Yuri was a survivor of the U.S government's internment of Japanese Americans, a leader in the Asian liberation movement and a comrade to Black liberation leaders like Malcolm X. But Yuri's life was more than a list affiliations.
From her family and Remembering Yuri Kochiyama:
"Over a span of more than 50 years, Yuri worked tirelessly for social and political change through her activism in support of social justice and civil and human rights movements. Yuri was born on May 19, 1921 in San Pedro, California and spent two years in a concentration camp in Jerome, Arkansas during World War II. After the war, she moved to New York City and married Bill Kochiyama, a decorated veteran of the all-Japanese American 442nd combat unit of the U.S. Army.
Yuri's activism started in Harlem in the early 1960's, where she participated in the Harlem Freedom Schools, and later, the African American, Asian American and Third World movements for civil and human rights and in the opposition against the Vietnam War. In 1963, she met Malcolm X. Their friendship and political alliance radically changed her life and perspective. She joined his group, the Organization of Afro-American Unity, to work for racial justice and human rights. Over the course of her life, Yuri was actively involved in various movements for ethnic studies, redress and reparations for Japanese Americans, African Americans and Native Americans, political prisoners' rights, Puerto Rican independence and many other struggles.
Yuri is survived by her living children -- Audee, Eddie (Pam), Jimmy (Alison) and Tommy (Julie), grandchildren -- Zulu (Masai), Akemi (Marc), Herb (Jennifer), Ryan, Traci, Maya, Aliya, Christopher, and Kahlil and great-grandchildren -- Kai, Leilani, Kenji, Malia and Julia."
Recommended Products