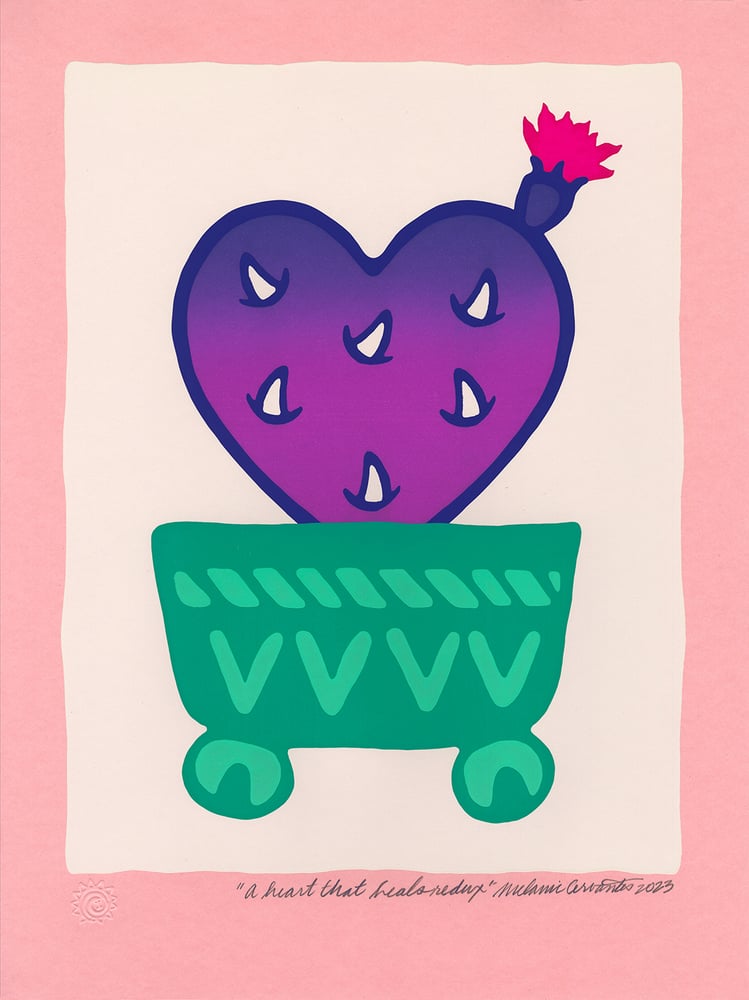 A heart that heals redux (Varied Edition 2023)
$

45.00
Institutional pricing(libraries, universities, for use on tv/movies etc) . Contact us for invoicing or a custom listing $90
Melanie Cervantes
12"x 16"
6 - Color, Hand pulled screenprint, Pink paper , Printed in our kitchen by Melanie Cervantes, San Leandro, August 2022
Edition of 40 with Dignidad Rebelde's studio symbol as a dry embossed seal in left hand corner, Varied Edition 2
In 2017 after a major surgery it was some time before I was able to move with ease. I was very interested making prints but was unable to endure the physical work needed to produce screenprints. This August is the five year anniversary of that surgery and I am here breathing and living! This print celebrates these five years of healing by revisiting the concept of the original piece and executing it with the full ability I have today.
Statement from original print:
This print is the last from the period of time where I was in recovery from lung cancer surgery. The recovery after having a major portion of my right lung removed was a delicate one and it was impossible for me to engage in the physically laborious practice of screenprinting. Instead I took to carving relief stamps. I took my time and prioritized my healing. It was only this week, three years later, that the little corazon de nopal got planted in it's own little pot (this portion is screenprinted). Like me it has taken time to come to rest with ease in place.
__
International Packages outside of the U.S.: Tracking Included, Insurance optional, contact us for details about cost.
If you would like to include a personalized card please include the message you would like included (30 words or less) in the "Notes or Instructions" section at checkout.
Recommended Products