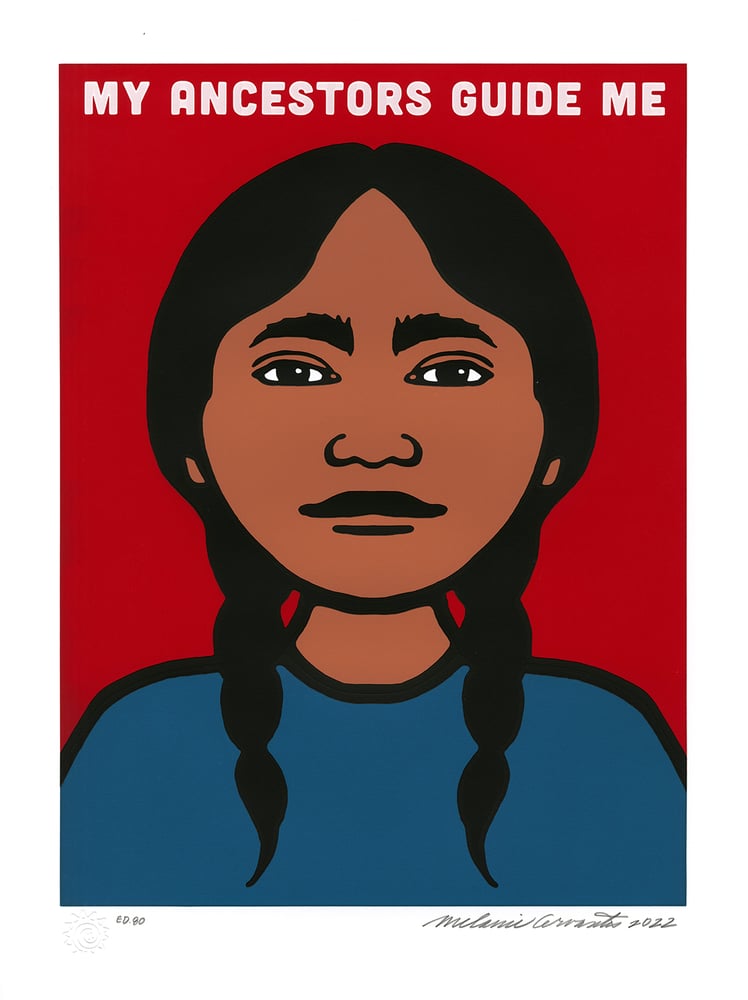 My Ancestors Guide Me (2022)
$

50.00
Institutional pricing (libraries, universities, for use on tv/movies etc) . Please contact us for invoicing or a custom listing : $100
Melanie Cervantes
12″ x 16″
5 layer screen print, Cougar 270gsm/100lb Digital Smooth archival paper, July 2022,
Edition of 80 with Dignidad Rebelde's studio symbol as a dry embossed seal in left hand corner
After a series of unfortunate events, starting with a cancer diagnosis on my 40th birthday, I spent time reflecting on the most painful and agonizing feelings I experienced during these difficult times. I came to realize that my suffering during these challenges is rooted in the traumatic events I lived as a child. This led me to think about the harms that young people from historically oppressed communities often endure in the most formative moments of our lives.
This series of prints emerges as a counterweight to the cruelty that kids endure on the daily and instead offers affirmation and celebration.
In this piece a young person proudly embraces their ancestors presence and guidance in their daily life.
__
International Packages outside of the U.S.: Tracking Included, Insurance optional, contact us for details about cost.
If you would like to include a personalized card please include the message you would like included (30 words or less) in the "Notes or Instructions" section at checkout.
Recommended Products